The Green at Longstone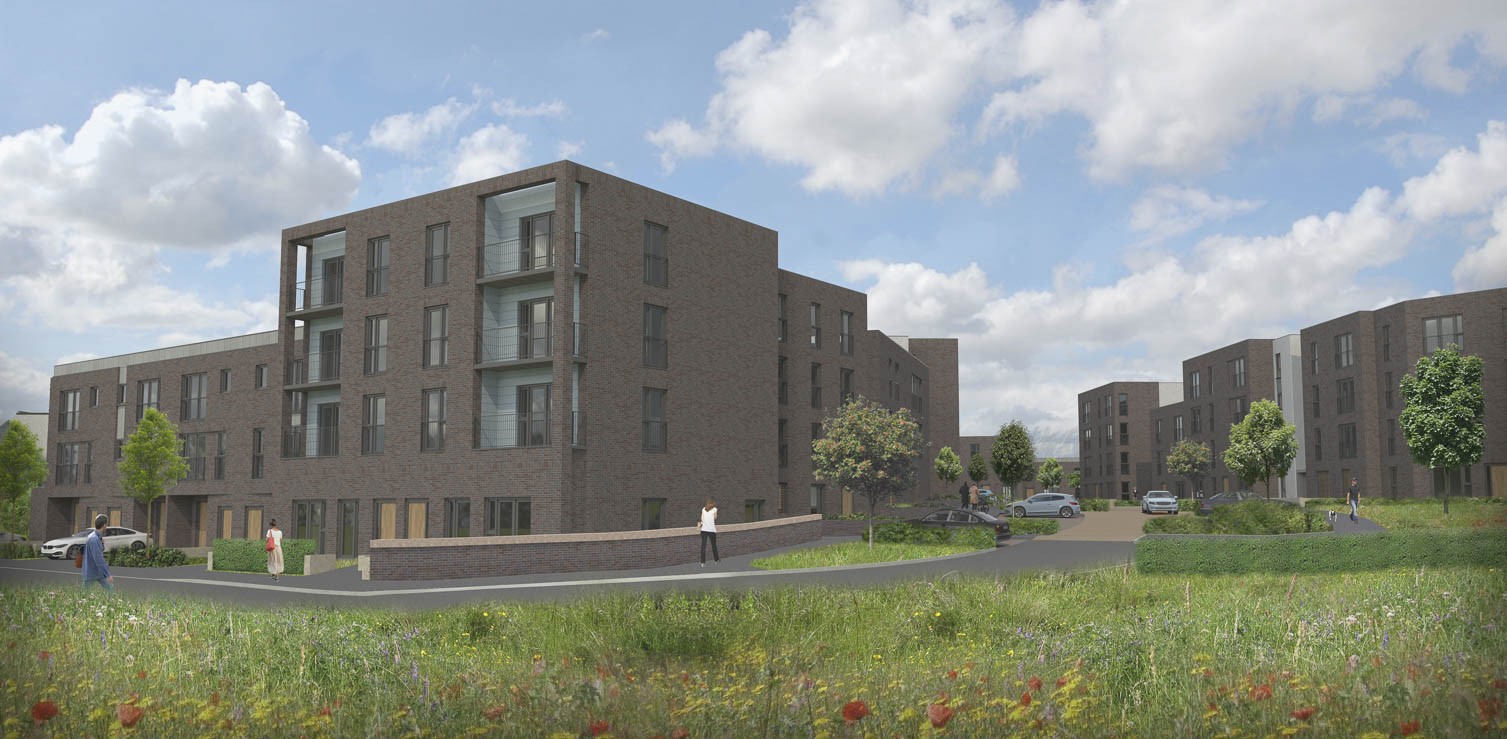 Residential Development and extensive high quality landscape.
157 new build homes including a mixture of houses and flats are provided in conjunction with a wide range of tenures, including private sale, mid-market rent and social rent.
At a Glance

Location Edinburgh
Client Castle Rock Edinvar Housing Association/Places for People Scotland
Site Area 5.687 ha
Contract Value £18 m
Status Completed
Urban Response
The site has a number of significant features and constraints including complex topography, a 15 metres no-build zone to be maintained where it neighbours the Saughton Prison. Part of the site also is affected by flooding from the Murray Burn.
The proposal positively addresses the site context in a number of ways, extending the existing urban grid and pattern, the street frontage to Calder Road, and utilises the site topography to maximise views of the Pentland Hills to the South.
Generally the proposed buildings remain sympathetic in scale to the residential units in the wider surrounding area.
The proposals also define a number of clear streetscapes. Corner balconies and a generous use of juliet balconies maximise the south aspect and views.
A simple palette of materials is marked by subtle variations in the brick application emphasising its texture. Flush vertical brick stack bond mark the ground floor communal storages. Recessed spandrel panels with vertical brick slips mark more prominent windows to lounges.
Sustainability
The Combined Heat and Power System (CHP) integrates the production of usable heat and power, in one single, highly efficient process.
Longstone complies with Aspect Silver Levels 1 and 2 of the Building Regulations.
Find out more about our sustainable approach to energy efficient buildings.
Place MakinG

The central open space provides a focal point at the heart of the development. 
In line with the CEC Designing Street policy the space is designed with shared surface principles, encouraging pedestrian movement and discouraging fast vehicular movement.
The central space is a structured, ordered and integrated public realm.
The transition square leads onto the shared surface within the terrace housing lanes.
Six different terrace house types are proposed throughout the site.
A wider area of open space remains to the south of the side, on the bank of the Murray Burn. This area is open to the public and its quality and accessibility improved.